This is an archived article and the information in the article may be outdated. Please look at the time stamp on the story to see when it was last updated.
LAKESIDE, Calif. — A woman suspected of hitting two parked cars while driving drunk was seriously injured when she jumped a fence and fell into a concrete drainage culvert, authorities said.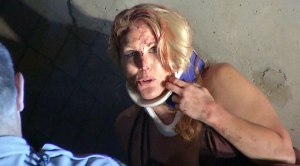 Officers went to an area of unincorporated Lakeside on Los Coches Road near Del Sol Road to investigate reports of a possible hit-and-run vehicle collision. When they arrived, residents told them they woke up to the sound of a loud crash.
Investigators said a driver hit two cars parked on Los Coches Road and then apparently attempted to run away.
"She apparently scaled a chain link fence and probably not realizing what as on the other side dropped into an about 25-foot-deep drainage culvert, and she sustained some pretty serious injuries during the fall," CHP Sgt. Eric Nicholas said.
Paramedics gave the woman, who was conscious, first aid at the scene. She was then taken to a hospital for treatment of broken bones and a head injury.
The woman is expected to be charged with driving under the influence when she is released from the hospital, officials said.