This is an archived article and the information in the article may be outdated. Please look at the time stamp on the story to see when it was last updated.
CHULA VISTA, Calif. — A dry-docked multimillion-dollar yacht burned for hours  Thursday at a Chula Vista boatyard as firefighters poured thousands of gallons of water on the blaze to prevent if from spreading to other boats.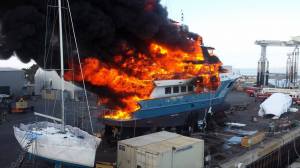 The fire at the Marine Group Boat Works at 997 G St. was reported about 9:10 a.m., according to the San Diego Fire-Rescue Department, which dispatches for the South Bay city's fire department.
A fire dispatcher said one person may be injured, but details were not immediately available.
Workers at the boat yard evacuated when flames began pouring out of the Polar Bear, a steel-hulled yacht powered by twin Caterpillar engines.
Fire crews  poured multiple streams of water into the boat for more than five hours, but the fire continued to burn below deck. As of 3 p.m., the yacht was still burning, and authorities told residents at a nearby recreational vehicle park that it would likely continue burning until 3,000 gallons of diesel fuel on the boat had been consumed.
Officials said the boat was probably a complete loss. They estimated the damage at between $15 million and $18 million.
What caused the boat to catch fire had yet to be determined, but workers speculated that it may have been sparked by someone working in the boat with a welding torch.