This is an archived article and the information in the article may be outdated. Please look at the time stamp on the story to see when it was last updated.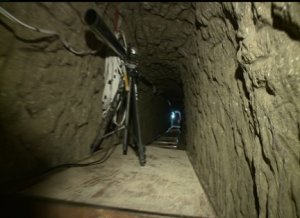 SAN DIEGO – Three suspects charged in connection with the drug smuggling "super tunnel" discovered last week will appear in court Tuesday.
Juan Pena-Osuna and Jose Arturo-Mendoza are both charged with possessing cocaine with intent to distribute and with aiding and abetting. Roman Ramos-Romero is charged with possessing marijuana with intent to distribute.
A federal complaint reveals more details about the involvement of the suspects and about the investigation leading up to the tunnel's discovery.
According to the complaint Federal agents were tipped off by a confidential source that a man purchased four demolition hammer drills during a 45-day period, beginning in August 2013 to September 2013. The source told agents the drills were being used to construct the underground tunnel.
An investigation led agents to the Siempre Viva Warehouse in Otay Mesa, where the tunnel was later discovered.
According to the document, October 25 agents began watching the warehouse and observed vehicles arriving to the warehouse, where boxes were loaded into the vehicles. Agents followed one of the vehicles to another warehouse on Brandywine Avenue in Chula Vista.
October 26 agents again observed a box truck leave the Siempre Viva warehouse and head to the warehouse in Chula Vista. At that site, they witnessed another box truck leave and they followed it for surveillance. During the surveillance, the truck was stopped by Chula Vista Police for traffic violations and agents found approximately three tons of marijuana inside.
Surveillance continued for several more days and on October 30, law enforcement officers stopped a panel van being driven by Arturo-Mendoza, according to the complaint. Inside the panel van, federal agents state they found six suitcases, containing approximately 148.86 kilograms of cocaine. Arturo-Mendoza was arrested. Pena-Osuna, who was allegedly driving another vehicle in tandem with the van, was also stopped and arrested.
That same day another truck leaving the Chula Vista warehouse was stopped. The complaint states agents found approximately 2,868.6 kilograms of marijuana inside the truck, and driver Roman Ramos Romero was arrested.
Following the arrests, search warrants were executed at both warehouses. The search led to discovery of the drug tunnel. The warehouse in Chula Vista was being used as the "stash location" for the "drug trafficking organization," according to the complaint.
The suspects will have a detention hearing Tuesday afternoon at the Federal Courthouse in downtown San Diego.