This is an archived article and the information in the article may be outdated. Please look at the time stamp on the story to see when it was last updated.
SAN DIEGO — A 25-year-old man was recently arrested after he allegedly used a drone to smuggle several pounds of methamphetamine over the border.
A Border Patrol agent saw the drone fly over the border fence about two miles west of the San Ysidro Port of Entry around 11:30 p.m. on August 8.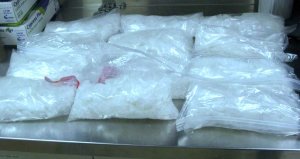 Another agent riding an all-terrain vehicle near the border soon spotted a man who was carrying a large open bag that had a multiple plastic-wrapped packages containing methamphetamine. After the man was arrested, the agent found a large drone hidden nearby in a bush.
"Due to the agents' heightened vigilance, this drone smuggling scheme was stopped before these dangerous narcotics could enter our communities," said Acting Assistant Chief Patrol Agent Boone Smith.
The methamphetamine had a total weight of 13.44 pounds and an estimated street value of $46,000.