This is an archived article and the information in the article may be outdated. Please look at the time stamp on the story to see when it was last updated.
IRVINE, Calif. – Drones were flown over the area of Lake Forest where a 19-year-old college student went missing last week as the search for the teen continued Sunday and investigators follow up on leads.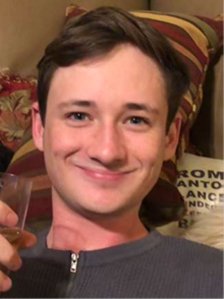 Blaze Bernstein disappeared after visiting Borrego Park in the Foothill Ranch community with a friend to meet another person on Jan. 2., officials said. He was last seen around 11 p.m. that day, when he walked further into the park and never came back. His phone stopped working about an hour later, his parents told reporters on Friday.
Bernstein is a pre-med student at the University of Pennsylvania who came home to the Orange County community to visit family over the holidays. He was supposed to fly back to the East Coast on Sunday to start classes again, his father told the Orange County Register.
He did not have money, his ID or wallet when he left, his parents said. They also said Bernstein did not use drugs or alcohol so they don't think that would be a factor in his disappearance.
Five days after the teen went missing, on Sunday, drones provided by a family friend will be flown over the park and other parts of Lake Forest where he was last seen, his father said.
The drones used thermal cameras and other HD cameras to photograph the area and then stitched those images together for a bird's eye view of where he was last seen, Kevin Jones, a drone pilot helping in the search, said.
Investigators were "actively following leads" Sunday, the Orange County Sheriff's Department tweeted, as the search continued in the Whiting Ranch area. But officials would not provide details about those clues.
#OCSDPIO: Search continues for missing 19 y.o., Blaze Bernstein. Approx 25 OCSD Reserve deputies searching the Whiting Ranch area. Anyone with information is urged to contact the Department at 714-647-7000 Anonymous tips: Orange County Crime Stoppers at 855-TIP-OCCS. pic.twitter.com/8QLm83qJ7N

— OC Sheriff, CA (@OCSheriff) January 6, 2018
The night Bernstein disappeared, he cooked a "great family meal" before his parents went to drop off his sister at a sleepover and "everyone went their own ways" for the evening, his father, Gideon Bernstein, told KTLA. The following day, the teen was supposed to go to a 2 p.m. dental appointment but never showed up.
When his parents couldn't reach him, they tried tracking his location using the Find My iPhone app, his father said. But his phone was off.
"That's when we knew something was wrong," his father said.
"I jumped in my car and drove home and we started to try and figure out what had happened," he said.
Tracing his cell phone records, Bernstein's parents learned that he had visited Borrego Park with a friend after texting the person his address at about 10:30 p.m.
"That's the last area that we understand that he was," his father said. "It's a mystery from there."
The friend who was with Bernstein said he was using a park bathroom when the teen had walked off and never come back, O.C. Sheriff's Department Spokeswoman Carrie Braun told the Los Angeles Times.
"We do not believe foul play was involved at this point, and the friend is only a witness, not a suspect or person of concern," Braun told the Times.
Since Wednesday, the Sheriff's Department has worked with Bernstein's family to try finding the teen. A Facebook group has gathered together family and friends to search for him. Search dogs and a helicopter with an infrared camera were used in the efforts on Saturday, but still to no avail.
The drones being used to canvass the area Sunday were provided by a family friend named Josh Freeman, Gideon Bernstein said.
The father of the missing teen described his son as a good cook and an "incredible creative writer" who works as the managing editor of Penn Appetit, a student-run food magazine at his university. An issue of the magazine posted online states he previously worked as a copy editor. He had recently been promoted to the leading editor position, according to his college's newspaper, The Daily Pennsylvanian.
As a pre-med student, Bernstein has a passion for science, his father said.
"He loved music," he said. "He loved to travel with his family."
The college student recently went on trips to Iceland and Sweden, experiences his father described as "some of the happiest times in his life."
Bernstein is described by sheriff's officials as a 5-foot-8-inch tall white man who weighs about 130 pounds and has brown hair and blue eyes. At the time of his disappearance, he was wearing a dark-colored jacket, dark gray long-sleeved zip-up and white Adidas sneakers.
Anyone with information about his whereabouts can call the Sheriff's Department at 714-647-7000 or Orange County Crime Stoppers at 1-855-847-6227.