This is an archived article and the information in the article may be outdated. Please look at the time stamp on the story to see when it was last updated.
SAN DIEGO — A 53-year-old motorist was recovering Friday from multiple gunshot wounds after being shot by another driver in San Diego's Skyline neighborhood, police said.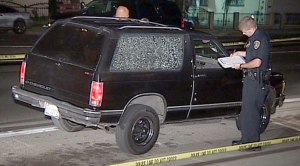 The shooting in the 100 block of Woodman Street was reported at 10:09 p.m. Thursday, according to San Diego police Officer Dino Delimitros.
The victim was driving southbound on Woodman Street near Skyline Drive when a newer-model black SUV pulled up beside the victim's vehicle, Delimitros said in a statement.
The driver of the SUV fired up to 10 shots, striking the victim three times, Delimitros said. None of the wounds were considered life-threatening. The shooter then drove off.
The motive for the shooting was under investigation, but police said it could have been a case of mistaken identity.
"These types of incident do happen unfortunately from time to time where someone who either drivers a similar looking vehicle or maybe somebody sold a vehicle and there was some bad blood between one group of people and another," Lt. David Rohowitz said. "We don't have any reason to believe at this point that this victim was purposely targeted."