This is an archived article and the information in the article may be outdated. Please look at the time stamp on the story to see when it was last updated.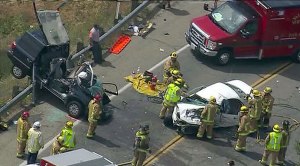 SAN DIEGO — A 52-year-old man who died in a head-on collision on a North County road was identified Wednesday as an Escondido resident.
Huy Pham was driving south on a curving stretch of Valley Center Road about 11:45 a.m. Monday when his 1996 Toyota Camry veered into an oncoming 2007 Chrysler Town & Country minivan near Cole Grade Road, according to the Medical Examiner's Office.
Pham died at the scene while trapped in his car, according to the California Highway Patrol.
In the minivan were a 38-year-old La Mesa man, his 40-year-old wife and their 7-year-old twin boys, all of whom were airlifted to hospitals, according to the CHP.
Intoxication apparently was not a factor in the accident, CHP public- affairs Officer Jim Bettencourt said.