This is an archived article and the information in the article may be outdated. Please look at the time stamp on the story to see when it was last updated.
SAN DIEGO -- A bartender testified Wednesday that a group of men were "all visibly wasted'' an hour before one of them drove at high speed onto a freeway transition ramp in Clairemont and crashed his SUV, killing three of his five passengers.
Camilly Berardi, taking the witness stand in the trial of William Cady, testified that she offered to call a cab or car service to take him and his five friends home because she didn't want them on the road.
She said three of the men were "nice'' and the others were "d----- bags,'' but all were "visibly wasted.''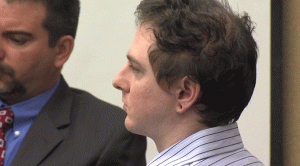 Berardi said she vaguely remembered testifying at a previous hearing that when his friends were offered the car service, Cady said, "It's my car and they will go where I take them.''
Cady, 26, is charged with three counts of murder and gross vehicular manslaughter, as well as DUI. He faces up to 45 years to life in prison if convicted.
According to testimony at a hearing last year, Cady's blood-alcohol content was between .13 and .19 percent at the time of the crash, which happened about 11:15 p.m. on Jan. 10, 2014. Cady also had marijuana in his system based on a blood test administered three hours after the accident, said Deputy District Attorney Makenzie Harvey.
"Alcohol, marijuana, a reckless, dangerous and aggressive attitude are a very dangerous combination," Harvey said in the opening statements.
The prosecutor said Cady drank over an extended period of time and smoked marijuana the day of the crash.
One of Cady's passengers, Trevor Rodgers, testified that Cady was going too fast and sped up and laughed when all five passengers asked him to slow down just before he lost control of his SUV on the transition ramp from northbound Interstate 805 to westbound state Route 52.
Harvey said the SUV flipped at least five times, and four passengers were ejected from the vehicle.
Taylor Bednarski, 29, and Shon Gilliam, 23, died at the scene. A third passenger, 35-year-old Jeffery Becker of Kern County, died in the crumpled SUV.
According to testimony, Cady and five companions were drinking at a friend's house, then at the Sky Box sports bar in Clairemont in the hours before the crash.
After leaving Sky Box, one of the men bought whisky at a grocery store, then the group made its way to a second bar and were kicked out of that establishment for being too rowdy, according to court testimony.
One of the first California Highway Patrol officers on scene, Shane Borba, described trying to help one of the victims.
"I could hear gurgling and a thrashing sound which was blood in throat," Officer Borba held the man as he died from his injuries. That man later identified as 35-year-old Jeffrey Becker. He was still strapped in his seat belt behind the driver's seat occupied by Cady.
"His arms and his legs moved less and then they stopped. I could see rise and fall of his chest one last time," Borba said. "I realize there was nothing I could do for him."
Hearing this testimony the dozen or so family members in the chamber were openly weeping. Two people stormed out of the courtroom - they were so upset.
Download Fox 5 iPhone app  |  Download Fox 5 Android app