This is an archived article and the information in the article may be outdated. Please look at the time stamp on the story to see when it was last updated.
SAN DIEGO -- A 21-year-old motorist who was speeding and under the influence of alcohol when he struck and fatally injured a man on a street near Little Italy, then fled the scene, was sentenced Thursday to 11 years in state prison.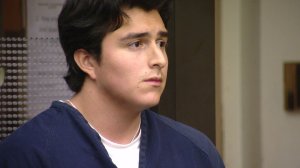 David Dominguez pleaded guilty last month to gross vehicular manslaughter while intoxicated and admitted a hit-and-run allegation. He faced a maximum of 15 years under his plea agreement.
Deputy District Attorney Laura Evans said Dominguez had left a bar and was on his way to the airport to pick up his girlfriend when he drove down Laurel Street at speeds of 60-70 mph, ran a red light and struck 50-year-old Garold "Gary" Crosbie near Pacific Highway about 11:30 p.m. on April 6. Crosbie died at the scene.
Family members said Crosbie -- a former Navy man -- was getting his life together and was three weeks out of rehab when he was struck in a crosswalk with a green light.
"He was run down, left dying in the middle of the street," said James Fay, the victim's stepfather.
Dominguez, who had a passenger with him, picked up his girlfriend at the airport and she dropped the passenger off and took Dominguez home, Evans said.
The passenger called police, and Dominguez was arrested the next morning.
A breathalyzer test administered eight hours after the accident to Dominguez showed a blood-alcohol level of between .04 and .06 percent, Evans said.
"We have a lost life due to very `stupid' choices," the prosecutor told Judge Michael Groch. "His passenger said `Stop,' but he (Dominguez) said `no,"' the prosecutor said, referring to the moment when the defendant hit the victim.
Dominguez apologized to Crosbie's family for the "horrible" decision he made that night.
"I hope you don't look at me as a monster, because I'm not," the defendant said.
Defense attorney Brian White said Dominguez was "caring and generous" and "he will live knowing he took a life."