This is an archived article and the information in the article may be outdated. Please look at the time stamp on the story to see when it was last updated.
POWAY, Calif. – The driver who collided with a fire truck in Poway, killing his passenger, broke his silence to Fox5 Saturday.
Two weeks after a deadly crash at the intersection, 44-year-old Robbie Gillespie described what happened during the early morning hours of June 20.
Gillespie said he was hanging out with 19-year-old aspiring model and former Poway High School student Evelyn Jean Courtney.  They had known each other for a month and half.
"We were just friends," said Gillespie.  "She thought of me more as a father figure. I kind of thought myself as a big brother."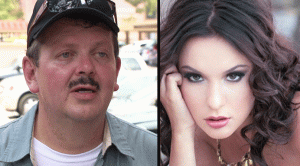 On Tuesday, June 18, Gillespie was released from jail and said he had met up with Courtney the next evening.
"We went to Jack in the Box and we were just hanging out," said Gillespie. "I tried to help her and she tried to help me with my issues."
Contrary to previously published reports, he said Courtney was not on an early morning modeling shoot.
Gillespie said he was taking Courtney home to her parent's home in Poway when the accident happened.
"As I entered into the intersection at Midland and Poway, I heard nothing," recalled Gillespie.  "That's when I looked over and I saw the fire truck.  Instinct was to hit the gas and accelerate, but I had no chance."
Gillespie was pulled out of his mangled car and survived the crash, but Courtney did not.
"I've got six cracked ribs, I'm in a lot of pain," said Gillespie. "I'm grieving on the inside. It's been a really tough week."
The accident is still under investigation.  Firefighters said they entered the intersection on a green light.  Crews also told detectives they had emergency lights on as they were on their way to a medical call.
"The sirens were not on," said Gillespie.  "I think had I heard the sirens it would have definitely helped me be more alert."
An opened container of alcohol was found in Gillespie's car, but investigators have not confirmed if the accident was drunk driving related.
Gillespie told Fox 5 he has struggled with drugs and alcohol, but said on the night of the accident he did not drink nor did he use any drugs.
"I would never use in front of [Courtney]. She knows that," said Gillespie.  "I was being responsible. I was respecting her wishes that I didn't do that, so I didn't."
He said what happened was an accident.
"It was simply an accident," said Gillespie. "Yes, I feel terrible that it happened, but in the same token I know in my heart that was trying to do the right thing."
Gillespie had not been charged in the accident.   He is married and a father of two teenagers. No family members wanted to make a comment.