This is an archived article and the information in the article may be outdated. Please look at the time stamp on the story to see when it was last updated.
 SAN DIEGO – A man was killed as he lost control of his vehicle and it ran off the right shoulder embankment on Interstate 8 in El Cajon, and he was  identified by the Medical Examiner's Office.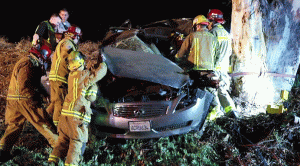 Ismael Perez Chavez, 30, died in the crash at 11:50 p.m. Saturday, the CHP said.

Witnesses said the vehicle was traveling at a high rate of speed when it veered across traffic lanes, left the freeway, plunged down a steep embankment and struck a large tree, the Medical Examiner's Office said in a statement.

Smoke reportedly was coming from the vehicle and it appeared to be catching fire, CHP officers said. Firefighters were called to free someone trapped inside the car, but CHP officers called for the medical examiners just after midnight, according to CHP logs.