This is an archived article and the information in the article may be outdated. Please look at the time stamp on the story to see when it was last updated.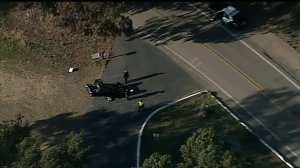 SAN DIEGO — The motorist killed when he lost control and crashed a pickup truck on a curving street in the Tijuana River Valley, just north of the U.S.-Mexico border, was publicly identified as a 31-year-old Chula Vista man.
Edward V. Meza was heading west at high speed in the 2600 block of
Monument Road, approaching Hollister Street, when his 1998 Toyota Tacoma hit an
asphalt curb and a rock. It overturned, according to San Diego police and the
county Medical Examiner's Office.
A passerby called for help, but Meza was declared dead from his injuries shortly before 3:30 p.m., authorities said.