This is an archived article and the information in the article may be outdated. Please look at the time stamp on the story to see when it was last updated.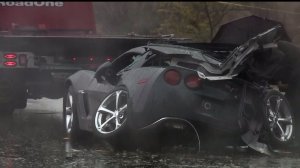 SAN DIEGO — A 64-year-old San Diego man who was killed Friday when his sports car veered off a rain-slicked roadway in the Miramar area and smashed into a tree, was identified Saturday by the Medical Examiner's Office.
Jack Villanueva was driving a 2013 Chevrolet Corvette southbound in the 8000 block of Kearny Villa Road just south of Miramar Way shortly before 8:30 a.m., according to San Diego police.
Villanueva lost control of the car, spun out, hit a tree and was ejected. He died at the scene, the medical examiner said.
No one else was injured.