This is an archived article and the information in the article may be outdated. Please look at the time stamp on the story to see when it was last updated.
SAN DIEGO — A San Diego man accused of driving a car that allegedly ran a red light and was struck broadside by a Poway fire truck, killing a 19-year-old woman in his vehicle, is scheduled to make his first court appearance Tuesday.
Robbie Gillespie, 44, was driving a Honda Accord southbound on Midland Road around 4 a.m. Thursday when it was hit by an eastbound Poway Fire Department engine at Poway Road and pushed into a roadside light pole, according to San Diego County sheriff's officials.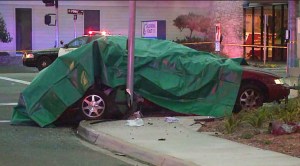 The three people in the fire engine were unhurt and came to the aid of the motorist and his passenger, 19-year-old Evelyn Courtney, who died from her injuries at the scene despite the lifesaving attempts, Lt. Jeff Duckworth said.
Medics took Gillespie to a hospital for treatment of non-life- threatening injuries. He was released after treatment and is free on bond.
The nature of the relationship between Gillespie and Courtney, who was single and lived with her parents in Poway, was not immediately clear.
The occupants of the fire engine told investigators they had entered the road crossing on a green light, with their emergency flashers and siren activated.
An open alcoholic-beverage container was found in the crumpled Accord, according to Duckworth.
"Investigators are looking into the possibility that drugs and/or alcohol may have been a factor in the collision," Duckworth said.