This is an archived article and the information in the article may be outdated. Please look at the time stamp on the story to see when it was last updated.
SAN DIEGO - A hit-and-run crash Tuesday afternoon injured a pedestrian and left a broken hydrant shooting water in the air in Southcrest area, police said.
The crash happened at 35th Street and National Avenue in Southcrest around 3:30 p.m., according to San Diego police. The intersection was rain-dampened.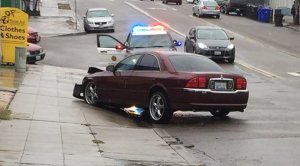 The involved vehicle, described as a red Nissan sedan, was found a couple streets away, Officer Joshua Hodge said. The suspected driver was arrested and is being evaluated for drugs and alcohol.
The victim, a Coca-Cola delivery man, suffered a dislocated wrist.
The crash forced closures of traffic lanes in the area.