This is an archived article and the information in the article may be outdated. Please look at the time stamp on the story to see when it was last updated.
SAN MARCOS, Calif. – A young man was killed Thursday when the car he was driving careened off a North County street and crashed into several trees, possibly during a speed contest with another motorist, a sheriff's sergeant said.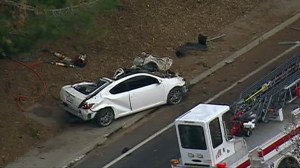 "There was a big bang" said Victor Reyes who lives in the area.  "He hit the tree really, really, really hard.  It was bad."
The crash in the 1000 block of East Mission Road occurred shortly after 2:30 p.m.
According to witnesses, the white Scion TC was heading west at a high rate.  As the Scion traveled through a curve in the road, it lost traction and slid sideways off the road.  The Scion hopped the north curb of East Mission Road, continued sliding in a northwest direction and struck a tree.
After hitting the tree, the Scion was redirected into another tree causing major damage to the driver's side area.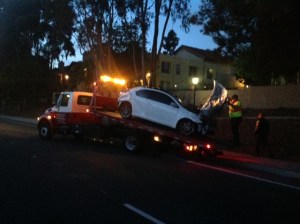 The driver, believed to be in his late teens or early 20s, died at the scene. His name was not immediately available.
According to witnesses, the youth may have been racing another motorist in a dark-colored car just before the accident, sheriff's Sgt. Mark Foster said. The other involved driver — if there was one — did not stop, the sergeant said.
Deputies shut down a roughly half-mile stretch of the street to allow for the investigation and cleanup.
The collision investigation is ongoing and is being conducted by the San Marcos Traffic Unit.
Anyone with information about this case can call the Sheriff's Department non-emergency number at 858-565-5200 or leave a message at 760-510-5048.