This is an archived article and the information in the article may be outdated. Please look at the time stamp on the story to see when it was last updated.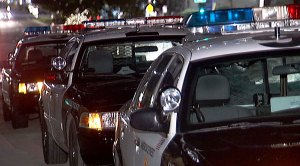 SAN DIEGO — A 25-year-old woman was in custody Friday, accused of striking a pedestrian while driving drunk in Pacific Beach and striking another motorist while fleeing the scene, police said.
The woman was driving a Nissan Pathfinder when she struck a 25-year-old man in the intersection of Garnet Avenue and Everts Street about 3:20 p.m. Thursday, according to San Diego police Officer David Stafford.
The man sustained a fractured foot, for which he was taken to a local hospital, Stafford said.
The woman drove on after striking the pedestrian, but was followed by a witness as she drove several blocks at a high rate of speed while running stop signs, Stafford said.
She allegedly struck a car in the 1000 block of Loring Avenue, causing the other driver to sustain a foot injury and inflicting undetermined injuries on herself, Stafford said.
The woman — who faced felony DUI and hit-and-run charges — was taken to a local hospital to treat "complaints of pain," he said.