This is an archived article and the information in the article may be outdated. Please look at the time stamp on the story to see when it was last updated.
ESCONDIDO, Calif. — A woman was hospitalized with head injuries when her boyfriend lost control of his car and crashed under the trailer of a big rig early Thursday.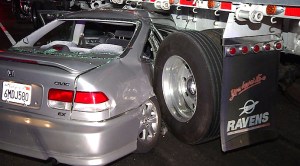 The crash happened at about 1 a.m. when the driver of a Honda Civic heading east on state Route 78 lost control, the California Highway Patrol said.
"For unknown reasons, he lost control to the left, struck the center divider wall, careened off of it and crossed back across all lanes, where he went under the trailer of a big rig that was in the slow lane, " CHP Sgt. Matt Boothe.
The car ended up wedged under the trailer. The driver was uninjured, but his girlfriend was taken to Palomar Medical Center  for treatment of head injuries. Her injuries were not believed to be life-threatening, Boothe said.
The driver was arrested on suspicion of driving under the influence of alcohol.