This is an archived article and the information in the article may be outdated. Please look at the time stamp on the story to see when it was last updated.
SAN DIEGO –A downtown San Diego statue has some people scratching their heads.  Passersby stop and take pictures and ponder what it is and what it means.
"It kind of looks like Shrek," said one passerby.
Another remarked that it reminded her of a bad gargoyle.
The statue was placed outside the Museum of Contemporary Art San Diego on the 1100 block of Kettner Boulevard a few weeks ago.  The sculptor is Nathan Mabry of Los Angeles.  The statue is called Process Art (dead men don't make sculpture).
"He's telling me he's just so bored out of his mind and has so much to express," said Holly Hunt of what the piece said to her. "It's driving him crazy."
Others aren't a big fan of the work.
"I actually hate the statue. I do I like it from the neck down. It looks like the thinker guy," said Teddy Mack.  "But with the eyeballs, I don`t know, it`s over the top."
Robert Pincus is the Senior Grants and Art Writer at the Museum of Contemporary Art San Diego.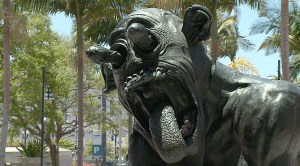 "(Maybry's) work tends to combine what you think of as traditional sculpture and he'll throw in a jarring juxtaposition," said Pincus.  "It's supposed to be comical.  It's supposed to make you laugh."
He said the piece grabs attention.
"Everybody's rushing, right?" he said.  "They're not going to stop at a sculpture that's tame or conventional but something like this they may say, 'What is that reference?'"
It is making people in downtown stop.
"We hope people are getting startled and then they`ll look around and realize what they have around them," said Jessy Bell a volunteer with the museum.
Pincus said the piece will likely head to Los Angeles to be displayed there after its time in San Diego.