This is an archived article and the information in the article may be outdated. Please look at the time stamp on the story to see when it was last updated.
Nat Bosa is trying to do something not seen in downtown San Diego for years — build condos.
The Canadian developer, one of the neighborhood's most prolific builders, envisions a 41-story luxury tower rising near the waterfront. He's betting well-heeled buyers will cough up as much as $3 million for one of the 221 units along Pacific Highway.
Bosa's confidence owes to a stunning recovery in the downtown condo market, which saw mass foreclosures and prices nearly cut in half after the housing market collapsed. Since hitting bottom two years ago, however, values have shot back up amid growing demand and contracting supply.
"Things have gotten excellent downtown," said Gregg Neuman, a real estate agent who specializes in the neighborhood.
The Great Recession slammed the door on condominium construction in the 2.2-square-mile area. Projects were scrapped or converted to rentals. From 2001 through 2009, builders finished nearly 8,300 units, according to Civic San Diego, which oversees new construction planning downtown.
They haven't finished one since.
Bosa's ritzy project, which he plans to break ground on during the first half of next year, would change that. Prices for the units, which are expected to be completed in 2016, will start in the $700,000s. Bosa Development aims to begin another downtown condo project in 2015.
"San Diego is definitely ripe," Bosa said, explaining that buyers have finally snatched up many of the empty condos that flooded the market several years ago. "It's time to move forward to the next phase."
Higher prices across downtown have helped make that new construction more attractive.
In the second quarter, buyers of resale condos paid a median of $438 a square foot, or $438,000 for a 1,000 square-foot home. That's 18.4% more than a year earlier, according to real estate firm DataQuick.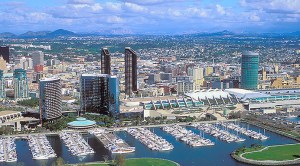 The median price peaked at $585 a square foot during the fourth quarter of 2005 before bottoming out at $326 during the third quarter of 2011. Prices fell by double-digit percentages year over year for eight straight quarters starting at the end of 2007.
Heavy speculation drove the spectacular boom and bust. Investors flipped to other investors, banking on ever-inflating prices.
"When the music stopped, a lot [of people] were caught without chairs," Neuman said.
Bosa said he doesn't foresee a return to such frenzied speculation, citing tougher mortgage lending standards.
"Bankers are going to be smarter," he said.
Prices rebounded quickly last year. The median sales price has risen by double-digit percentages year over year for five straight quarters.
Peter Katsionis is familiar with the rebound. He and his wife, who live in Canada, purchased a fourth-floor condo out of foreclosure in 2009 so their son had a place to live while attending law school. At the time, Katsionis saw the purchase as a "gamble" — unsure whether prices would fall further.