This is an archived article and the information in the article may be outdated. Please look at the time stamp on the story to see when it was last updated.
SAN DIEGO – Supporters of traditional marriage rallied Tuesday in downtown San Diego outside the Federal Courthouse one day after those in favor of same sex marriage rallied in the same spot.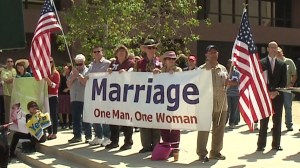 With the U.S. Supreme Court hearing arguments on the issue of same sex marriage, the topic is getting renewed interest.  About 150 people attended the rally, some carrying signs saying marriage should be between one man and one woman.
"We want the definition to stay what it has always been," said Becky Davies, who believes the issue shouldn't be for the court to decide.
"Californians voted twice and the people, majority, want to have marriage the way that it has always been and now it will be taken out of our hands and possibly overturned and I think it needs to stay in the states," said Davies.
People at the rally listened to about a dozen speakers and several religious leaders.  Dr. George Delgado is a local family physician.
"We're not saying they shouldn't have their relationships," said Dr. Delgado. "If they want to have those relationships, that's fine but marriage has a special place in society for the protection of children and for the stability of society."
Photographer Tamandra Michaels frequently attends rallies on both sides.
"I'm just curious what motivates the other side to hang on their prejudices, said Michaels.  "Love is love.  People in a committed relationship – people deserve to be equal."
It's a debate that's sure to continue as the nation's highest court now considers the case.