This is an archived article and the information in the article may be outdated. Please look at the time stamp on the story to see when it was last updated.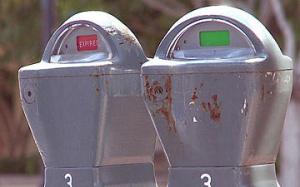 SAN DIEGO — The hours that parking meters are enforced in part of downtown San Diego could be shifted under a yearlong pilot program to be considered Wednesday afternoon by the Civic San Diego Board of Directors.
The current hours are 8 a.m. to 6 p.m. daily, except for Sundays and holidays. The proposal would make the hours 10 a.m. to 8 p.m. daily, except for Sundays and holidays.
The affected area would be bounded by First and Seventh avenues, and Broadway and a section of Harbor Drive in front of the convention center, according to documents from Civic San Diego, the successor to the old Centre City Development Corp.
The goal of the Downtown Parking Management Group, an advisory panel of residents, business representatives and community groups, is to increase utilization of parking spaces to 85 percent. The current utilization rate was not available.
The group has been working on several ideas to increase use of metered spaces, including adjusting prices and installing equipment that accepts credit cards.
The pilot program would include a 30-day grace period for enforcement and signs notifying motorists of the hours change.
If the proposal is approved, Civic San Diego would work with the office of Mayor Bob Filner to implement the hours changes.
The DPMG said it would monitor the pilot program monthly and recommend an extension if it's deemed successful.