This is an archived article and the information in the article may be outdated. Please look at the time stamp on the story to see when it was last updated.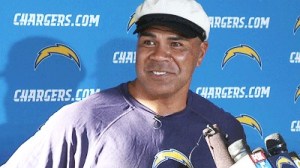 SAN DIEGO – Fans who purchased bricks for Junior Seau's memorial statue said they haven't received their items, nor have they gotten updates on how their money is being spent.
This comes more than a year after the former Charger's suicide in his Oceanside home.
When Charger fan, Rafael Buelna, heard about a Seau memorial, he paid his respects with a $45 donation last November. Memorial organizers promised Buelna's name be carved into a brick on Seau's memorial wall.
At the time, "I said, 'oh, it's a good idea,'" said Buelna. "We can put our name on the brick and it will be there forever."
Little did he know that the wait would also last forever.
"I actually forgot about it until my wife brought it up again," said Buelna. "And I was like, 'Ya, I wonder what happened.'"
Buelna wasn't alone. Dozens of people, some who had purchased hundreds of dollars worth of Seau memorabilia claimed they never received any of their purchases.
"If the Seau Memorial is still happening, then let me know," said a donor in a message board. "What is going on?"
"I have had numerous emails saying my brick is "being mailed," it "has been mailed", etc etc… no bricks, no answers," said another.
In February, the Seau Memorial statue organizer Michael Walter sent an email update to his donors explaining why things were being delayed.
"There are outside elements that you just can't control," said Walter.
These elements include legal issues with the City of Oceanside, the Arts Commission, laws regarding the usage of a celebrity name and most importantly, respecting the Seau family's request to put the project on hold while they grieve.
"I'm not going to do anything that is disrespectful to them," Walter added.
Then, the website was shut down and the twitter updates stopped in January making donors even more suspicious. One of the donors even considered filing a law suit against Walter and his team. However, they have since decided not to proceed.
"I figure the guy took the money and ran," said Buelna.
But Walter said that was not the case. Everything was lined up and he was just waiting for the right time to execute the plan.
"We have the architect. We have the sculptor. We have the contractors who want to build it at the location," said Walter. "We have the city that is willing to approve this. So let's cross over to the next bridge."
Purchasers now have three options – Have their donation be allocated to Seau's Club 55, wait until the memorial project is relaunched or ask for a full-refund.
But for Rafael Buelna it was never about getting his money back. He just wanted to memorialize his hometown hero.
"I'd rather just see it happen," said Buelna. "Get the name on the brick and get the statue up and going. Hopefully some other people can get involved to help him finish. And maybe he just needs help."
The next steps for Walter are to present the plan to the Arts Commission, and receive the official go-ahead from the Seau family.