This is an archived article and the information in the article may be outdated. Please look at the time stamp on the story to see when it was last updated.
EL CAJON, Calif. – Almost all of the 78 dogs found inside a hoarding house in El Cajon could be ready for adoption before the end of the year.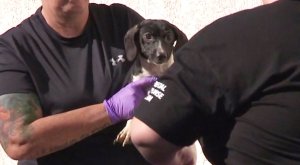 A San Diego Humane Society team rescued the dogs found roaming free in a filthy house on the 700 block of El Monte – some dogs had never been outside the home, animal rescuers said.
All of the dogs have been medically evaluated by the SD Humane Society staff and some are still in recovery.
"We hope to have them all available for adoption before the end of the year," Kelli Schry of the SD Humane Society told FOX 5.
Majority of the dogs were Chihuahua-terriers and some were pregnant, San Diego Humane Society Chief Stephen MacKinnon said on December 1 when the animals were rescued.  The person identified as the owner of the dogs was cooperating with authorities.