This is an archived article and the information in the article may be outdated. Please look at the time stamp on the story to see when it was last updated.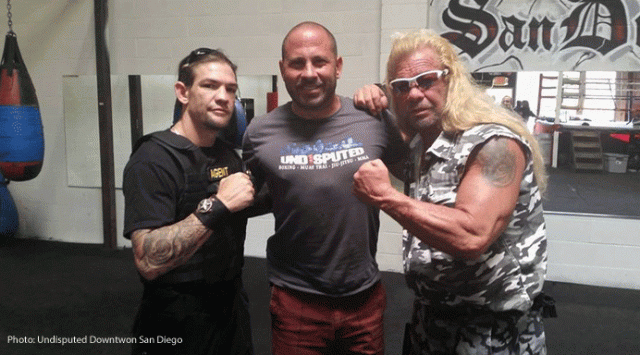 SAN DIEGO – The search for "War Machine," a mixed-martial-arts fighter accused of brutally beating his ex-girlfriend porn star Christy Mack in Las Vegas, brought reality TV star Dog the Bounty Hunter to San Diego Thursday.
Duane Chapman, who goes by "Dog," vowed Monday to find War Machine, formerly named Jonathan Koppenhaver.
#CMTDogAndBeth ok #war machine you want a real fight this time not a girl the biggest match of your career in the street

— Duane Dog Chapman (@DogBountyHunter) August 13, 2014
Las Vegas Metro police said they responded to Mack's home early Friday morning due to a domestic dispute between War Machine, Mack and an unnamed man.
Mack and the man suffered severe, but non-life threatening injuries in the fight, KUUV-TV reported. War Machine was not at the location when police arrived and hasn't been seen since.
The MMA fighter took to the Twitter last week addressing rumors that he beat up Mack.
https://twitter.com/WarMachine170/statuses/498676636196552704
On Thursday, Dog stopped by the training center Undisputed Downtown San Diego, where War Machine is a trainer. Although the fugitive MMA fighter was not at the gym, Dog was able to talk to some of the other trainers about the celebrity domestic-abuse case.
It was unknown how long Dog would be in San Diego.
The warrants War Machine faces are battery, strangulation, gross lewdness, assault with a deadly weapon and coercion/threat with force, according to MMAfighting.com.