This is an archived article and the information in the article may be outdated. Please look at the time stamp on the story to see when it was last updated.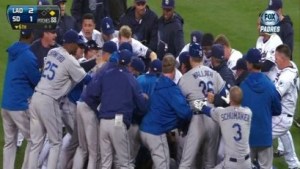 The Dodgers could have imagined a lot of scenarios for their Game 6 Friday night and never come up with the one that actually unfolded.
Not in the wildest dreams or darkest nightmares. Clayton Kershaw almost melting. Their defense unable to make a play. Their hitting less than rumor.
There will be no 25th anniversary return to the World Series for the Dodgers, not after they were embarrassed 9-0 by the St. Louis Cardinals at Busch Stadium to clinch the National League Championship Series.
The Cardinals did more little things, made less mistakes, were more clutch at the plate and out-pitched the Dodgers. And whether you believe the Dodgers have the more talented roster, it was clear by the time the series was over, they were not the better team.
The Dodgers finished with two hits, two errors, three wild pitches, a pair of wild throws from right-fielder Yasiel Puig and numerous missed plays.
And for the second consecutive game, the Dodgers could not come close to figuring out rookie right-hander Michael Wacha. The 22-year-old held them scoreless on just two hits in his seven innings.
All while Kershaw was experiencing his worst outing in years. It must have felt like an out-of-body experience for the left-hander.
His demise began with an 11-pitch at-bat to Matt Carpenter, the second baseman fouling off eight pitches in the third before doubling into the right-field corner.
The floodgates cracked and then burst open. Kershaw was clearly not in top form, and the Cardinals capitalized without mercy.
They scored four times in the third, Kershaw needing 48 pitches to get out of the inning. They scored five more times in a disastrous fifth inning and suspense had taken an early night off.
Matt Kemp, Hanley Ramirez and Andre Ethier all could have been in top health and it wouldn't have mattered on this night.