This is an archived article and the information in the article may be outdated. Please look at the time stamp on the story to see when it was last updated.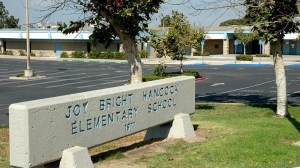 SAN DIEGO — A $34 million grant from the U.S. Defense Department will allow the San Diego Unified School District to renovate two elementary schools that serve the Murphy Canyon Navy housing complex, the district announced Friday.
The money will pay for permanent, state-of-the-art classrooms at Hancock and Miller elementary schools in Tierrasanta.
"This generous grant from the Department of Defense will help ensure that the students at Miller and Hancock elementary schools receive a world- class education in a state-of-the art learning environment," Superintendent Cindy Marten said.
The improvements will include renovation of existing classrooms, replacement of aging portables with single-story permanent classrooms; enhancement of campus security, as well as fire and emergency safety systems; heating, ventilation and air conditioning work; and replacement of old electrical systems and upgrading of the technology network infrastructure.
Also, sidewalks, stairs and accessible ramps will be repaired or replaced, and food service areas will be upgraded.
All 681 students at Hancock and 793 pupils at Miller are military dependents, according to the district.
"We have a proud military tradition in San Diego, and we are glad to have the opportunity to give back to our service men and women by providing their children with the best possible learning environments," said Kevin Beiser, president of the district's Board of Education.
The funding will be mixed with $8.6 million in construction bond money for a total budget of nearly $43 million. Construction is set to start in the spring of 2016, with completion expected in two years.