This is an archived article and the information in the article may be outdated. Please look at the time stamp on the story to see when it was last updated.
SAN DIEGO — A unique group of people who believe in an "interdimensional science" is subject of a documentary premiering for the first time in San Diego this week.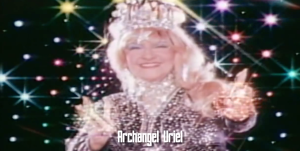 The Unarians believe people have millions of years of past lives in outer space and science fiction is real.
"It certainly gives you a whole new perspective on science fiction when you realize that some people think it's absolutely real," said Bill Perrine, the director of "Children of the Stars" a documentary featuring Unarians.
When asked why Perrine wanted to make the film, he said he's fascinated with communities and the way they reinforce belief systems.
"(They believe) that George Lucas is remembering his own past lives when he makes the Star Wars films, that Star Trek is a model for how we should live in this world," Perrine said. "That's pretty fascinating I think no matter how you look at it."
The local group is about 30 or 40 people strong and mostly in El Cajon.  Perrine said there are also branches of the group in Europe and Africa.
Perrine said people look at the group skeptically, especially after Heaven's Gate, even though they're not associated with the cult.
"They were just very kind, just like I said, very normal," he said. "They run small businesses and families. They all have their peculiarities but we all do.  Really, if you ran into them on the street I don't think you would know what they do in their spare time."
Perrine said some people will watch to be entertained, others to learn about a unique group.
"Plus the Unarians are a lot of fun," said Perrine.
The documentary airs at 6:45 p.m. Wednesday at the Digital Gym in North Park.