This is an archived article and the information in the article may be outdated. Please look at the time stamp on the story to see when it was last updated.
SAN DIEGO – An unusually high number of babies in San Diego are sick from a serious respiratory virus, according to Rady Children's Hospital officials.
"We've been having an epidemic based on the number of children being hospitalized this year," said Dr. John Bradley, a pediatric infectious disease specialist.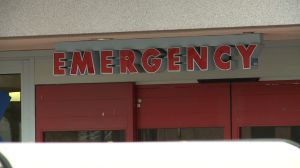 Since October, 937 children at Rady's have been tested for Respiratory Syncytial Virus with 227 tested positive.  In the past week alone, the hospital has seen 40 cases of children with RSV.
"RSV is a respiratory virus and in babies it causes pneumonia and in adults it causes just a cold," said Dr. Bradley.
Bradley said for babies the virus is much more serious, because the lungs and chest of babies are not fully developed before 24 months of age.
"When this virus gets into the lungs it creates lots of mucus and inflammation the airspaces start to clog up," explained Dr. Bradley.
This year's strain is particularly serious and the treatment for RSV usually includes a brief hospital stay, Bradley said.
"We know there's at least four different strains of RSV and we know some are much more virulent cause much more inflammation that other strains," he said. "[Patients] are in the hospital for a few days. We get them cleaned out and get their immune systems back up again."
Doctors said the first step to treating with RSV is recognizing symptoms.  It begins with a runny nose then develops into a raspy, wheezy cough.  If your child is showing blue lips, immediately call your physician.
Annie Brown brought her daughter Kaytalnia to Rady's emergency room Thursday after she showed symptoms of RSV.
"When she cries she has a wheeze or almost a squeal at the end of it and so it had me concerned," said Annie Brown. "I've heard about RSV, but don't know much about it.  I'm worried she might have it."