This is an archived article and the information in the article may be outdated. Please look at the time stamp on the story to see when it was last updated.
SAN DIEGO — Investigators were trying to determine the identity of a diver whose body was found underneath the West Mission Bay Bridge Tuesday morning.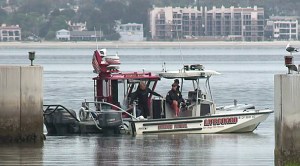 San Diego Lifeguards went to the bridge after getting a call at about 4:30 a.m. from a boater who saw a light shining underwater near one of the pillars supporting the bridge. When rescue divers went down to investigate, they discovered the body.
After documenting the scene, they brought the victim's body to the surface.  It was not clear if the diver became trapped underwater, but investigators said the person had probably been underwater for only an hour or two, because the battery in the dive light still had some charge left.
The cause of death and the victim's identity were being determined by the Medical Examiner's Office.