This is an archived article and the information in the article may be outdated. Please look at the time stamp on the story to see when it was last updated.
ENCINITAS, Calif. – All students in the Encinitas Unified School District will be taught the principals of Ashtanga yoga as part of the district's new life-skills curriculum despite the threat of a lawsuit.
The new program will encompass yoga, character education, nutrition, goal setting and wellness as a whole.  It was initially tested at one of the district's schools and will be implemented in all of them starting Monday.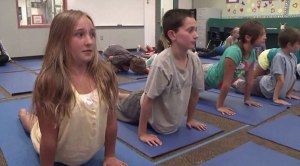 "We tell our kids to calm down but we don't give them the tools to do that," said David Peck, a supporter of the program. "We are very supportive of the yoga program in terms of physical and mental in terms of ability calm himself."
Parents in the community by in large are extremely excited about this program.   It's a vocal minority that is expressing their opposition, Peck said.
Mary Eady opted her son out of the yoga portion of program because she believes it's promoting religious beliefs.  Eady said the state's government authority in a public school setting should not be teaching children spiritual or religious practices.
"The curriculum itself said this yoga is meant to bring the spirit of the child to the surface. It's meant to teach the children to view the world from the standpoint of yoga and it's philosophy which is Hinduism," Eady said.
Working with first amendment attorney Dean Broyles, Eady said she hopes to force the district to drop the program.
"It's very fraught with Hindu religious belief and language itself," Broyles said. "Publically [the district] is not saying that it is not religious, but repeating a lie doesn't make it true."
The district received a half-million dollar grant from the Jois Foundation, who is dedicated to the teachings of Astanga yoga.  The curriculum will go into effect on Monday.