This is an archived article and the information in the article may be outdated. Please look at the time stamp on the story to see when it was last updated.
ANAHEIM, Calif. — Disneyland visitors expressed shock Tuesday night that an explosive device was left at the popular family destination that bills itself as "The Happiest Place on Earth."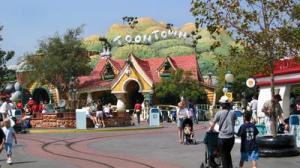 The apparent dry ice "bomb" exploded about 5:30 p.m. Tuesday in a trash can at Toontown, forcing officials to evacuate people from the area, police said. No injuries were reported, and the area was reopened about two hours later.
Disneyland said in a statement that "a small bang was heard in a trash can … In an abundance of caution, we evacuated Toontown to allow local authorities the opportunity to investigate."
The dry ice appeared to have been placed in a plastic bottle that was left in a trash can. The explosion was confined to the can, according to the Anaheim Police Department.
The device appeared similar to other devices that have exploded in Anaheim neighborhoods in recent months, Sgt. Bob Dunn said.
"Unfortunately," Dunn told The Times,  "it's an all too-common occurrence."
He said police were investigating whether there was any connection between those explosions and the blast at Toontown.
Investigators Tuesday night had not established a motive or determined why Toontown was targeted.