This is an archived article and the information in the article may be outdated. Please look at the time stamp on the story to see when it was last updated.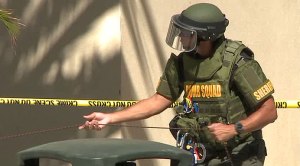 SAN DIEGO — A device that appeared to have been old military ordnance was found in Tierrasanta, which prompted authorities to evacuate a building and call in a disposal unit, police said.
A Lincoln Property Management employee found the device while doing maintenance work about 1:40 p.m. Wednesday, brought it back to the management office at 10323 Orleck St. and called police, San Diego police Officer Dan Lasher said.
Officers arrived and evacuated the building, Lasher said. An Explosive Ordnance Disposal unit arrived and removed the device, he said.
The Tierrasanta area was formerly known as Camp Elliott and was used as a U.S. Marine Corps training facility in the 1940s. The area was later developed for homes, and old ordnance occasionally turned up.