This is an archived article and the information in the article may be outdated. Please look at the time stamp on the story to see when it was last updated.
OCEANSIDE, Calif. — A French bulldog puppy that was stolen last week from an Oceanside family and sold twice was back with his rightful owners Wednesday, police said.
Detectives began investigating the theft of 2-year-old Sol last Wednesday when his owners reported that someone broke the latch off their gate, pulled the fence apart and stole the dog from their home in the 3900 block of Shenandoah Drive, Oceanside police Sgt. John McKean said. The family had bought the dog a few weeks prior for $3,500.
After Sol went missing, the family found him for sale on Craigslist for $1,200, McKean said. The family offered the seller "a hefty price to get Sol back," telling the person the puppy belonged to the family's daughters, 10 and 7, who were "devastated at the loss." The seller did not respond and immediately removed the posting.
"At first, we were happy didn't get eaten by a coyote or hit by car. Then to find out he was sold was heartbreaking," said Tiffani Shows, the girls' mother.
Property crime detectives tracked the seller to an apartment in Escondido, McKean said. The suspect claimed he found the puppy on the side of the road, conceded he made no effort to return the dog or contact the Humane Society and then sold the canine to a resident of Fontana, in San Bernardino County.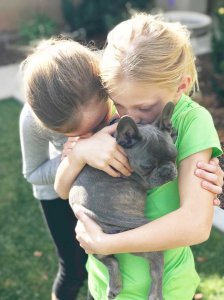 When detectives tracked down the Fontana resident, they learned that person had turned around and sold the pup to a family in Riverside County, McKean said, adding that Sol was found "in a nice house with a couple of full- grown French bulldogs in Hemet."
"Detectives explained the circumstances to the dog lover," McKean said. "She was understandably upset, but knew the right thing to do. She emotionally but gladly gave up Sol so he could be reunited with the original family."
Detectives drove the canine back to Oceanside, where he is now "safe and snug with his two best friends," the sergeant said.
The Hemet woman was not left empty-handed — the Fontana resident who sold her Sol gave her another French bulldog puppy to replace the stolen dog she gave up, police said.
"I thought we were never going to get him back again because of how cute he is and everybody would want to keep him forever and not even worry about whose dog it is," said Nevaeh, the older sister.
The suspected thief, whose name was withheld, could face a felony charge, McKean said. Detectives forwarded the case to the San Diego County District Attorney's office, requesting a charge of grand theft of a dog over $950.