This is an archived article and the information in the article may be outdated. Please look at the time stamp on the story to see when it was last updated.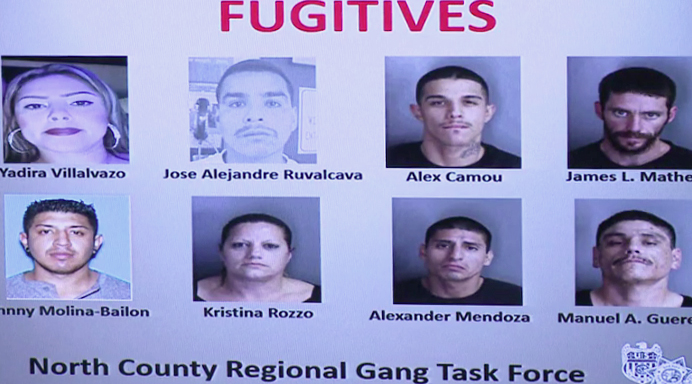 OCEANSIDE, Calif. – A number of reputed major heroin and methamphetamine suppliers in North County have been arrested and charged in 10 federal indictments with selling drugs, guns and other crimes, including money laundering, it was announced Wednesday.
Many of the 55 defendants are documented gang members from Oceanside, San Marcos, Vista, Fallbrook and Escondido, authorities said at a news conference at the Oceanside Police Department.
Police and federal prosecutors said 46 of the 55 defendants are either in federal or state custody. Investigators are continuing to search for seven defendants, and another two are in Mexico.
The crackdown, led by the North County Regional Gang Task Force, culminated a yearlong investigation that involved wiretaps, undercover drug and gun purchases and surveillance.
In total, authorities seized heroin, meth and 25 firearms, including handguns, revolvers and assault rifles.
The charging documents describe a trafficking organization allegedly headed up by a Mexico-based woman who used dozens of street gang members to distribute heroin.
Yadira "Pini" Villalvazo — who is still at large — attended Vista High School and was an associate of the Vista Home Boys street gang before she was deported following a federal drug trafficking conviction in 2002, authorities said.
According to court documents, Villalvazo, 38, is now running her own Sinaloa Cartel-linked organization from Tijuana. Her alleged specialty is still heroin.
Villalvazo's drug trafficking organization supplied at least 25 percent of the heroin sold and consumed in North County and grossed tens of thousands of dollars in proceeds that were sent back to Mexico, according to court documents.
The Villalvazo network distributed heroin in North County and also supplied pound quantities of the drug to a prolific distribution ring in Kingman, Arizona, authorities said.
U.S. Attorney Alana W. Robinson said the operation was one of the largest North County gang stings in recent history.
"This is a huge blow to the heroin supply in the region," Robinson said.