This is an archived article and the information in the article may be outdated. Please look at the time stamp on the story to see when it was last updated.
ALPINE, Calif. — A speeding car crashed head-on into an sheriff's patrol car on a rain-slicked Alpine road early Thursday, sending a deputy to the hospital with minor injuries, authorities said.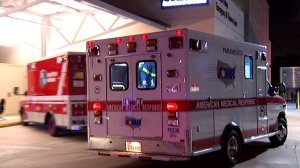 The two-car crash on Willows Road near Viejas Casino & Resort happened about 3:20 a.m., according to San Diego County sheriff's Lt. Dave Schaller.
The deputy was traveling westbound when the eastbound motorist lost control of his speeding vehicle and crossed over a center divider, striking the deputy's car head-on, Schaller said.
Paramedics took the deputy to the Grossmont Hospital to treat minor injuries stemming from an air bag deployment, he said. The other motorist was not injured.
Neither drugs nor alcohol were believed to be factors in the crash, Schaller said.