This is an archived article and the information in the article may be outdated. Please look at the time stamp on the story to see when it was last updated.
CHULA VISTA, Calif. - A driver who was deported 15 times before prosecutors say he crashed into a family's car as they returned home from Disneyland will stand trial.
An oft-deported Mexican citizen accused of driving drunk and fleeing the scene after blowing through a stop sign and crashing his truck into a car containing a family returning home from a day at Disneyland, seriously injuring a 6-year-old boy, was ordered Wednesday to stand trial on charges of hit-and-run, DUI and driving without a license.
Federal immigration officials said Constantino "Manuel" Banda Acosta has been deported from the United States at least 15 times over the past 15 years, most recently on Jan. 18.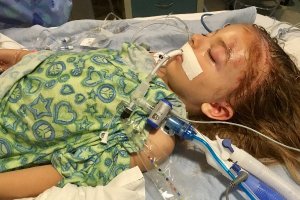 Banda, 38, was speeding west on Camino de La Plaza about 11:30 p.m. May 6 in San Ysidro when he ran a stop sign at Dairy Mart Road and crashed his pickup truck into a Honda Accord carrying 6-year-old Lennox Lake and his parents, according to authorities.
Lennox, in a child safety seat in the back of the car, suffered a major head injury and is recovering.
The defendant fled the scene but was arrested about two miles away after Border Patrol agents spotted his damaged truck parked on a street, police said.
Banda's passenger, Jorge Adame Ariza, also an undocumented immigrant from Mexico, testified under a grant of immunity during the defendant's two-day preliminary hearing. He said that he and Banda had a number of beers that night before the accident.
Adame said Banda -- who was separated from his wife -- got in a fight with a man outside a Chula Vista restaurant after Banda's wife and a girlfriend accused the defendant of puncturing a tire on their car.
Adame -- who did granite work for Banda -- said he drove up in Banda's truck after the fight and put Banda in the passenger seat. After they drove away, Banda took over as the driver, Adame testified.
San Diego police Officer Michael Muniz testified that Banda's blood- alcohol content measured .151 and .152 percent -- the legal limit is .08 -- during two breathalyzer tests about 2:15 a.m.
Chula Vista Superior Court Judge Stephanie Sontag ruled that enough evidence was presented to order Banda to stand trial.
"With the threshold of of evidence required in the preliminary examination I do find that threshold has been met and that there's sufficient cause to believe that Mr. Banda did commit the crime as charged," said San Diego Superior Court Judge Stephanie Sontag.
Acosta's defense attorney Juliana Humphrey argued there's not enough evidence to prove Acosta was behind the wheel and there are too many inconsistencies.
"A lot of the evidence that was presented today was developed by the prosecutor.  I didn't make up the tapes that show Mr. Adame driving twice. I didn't make up the time that it would take to drive certain places. Those are all facts beyond change," said Humphrey.
Banda faces seven years and eight months in prison if convicted, said Deputy District Attorney Christopher Chandler.
A readiness conference was set for July 28.
"To my knowledge not a lot of consequences for different things that have happened in his past, maybe an actual serious sentence will stop that or change behavior or deter other people. If people start taking things like this more seriously maybe it would help change things for other people as well," said Lennox's mother, Ingrid Rutan Lake.