This is an archived article and the information in the article may be outdated. Please look at the time stamp on the story to see when it was last updated.
SAN DIEGO — Deportations are already underway as a group of unaccompanied minors is returned to Honduras and more deportations are likely to follow.
"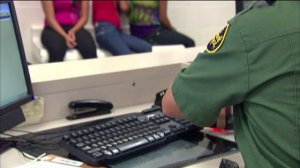 We need to be careful that we just don't add fuel to the fire," said Ev Meade, Director of University of San Diego Trans-Border Institute.
Meade has studied and tracked the migration of Central Americans to the U.S. border well before the issue made national headlines.
He believes deporting these migrants may be a quick fix that will backfire.
"Deportations won't work as a deterrent, everything we know about child migration in the last 25 years is the first thing in a deported kids mind is how am I going to come back," he stressed.
Immigration activists are also against the deportations claiming many of these migrants are being sent to their deaths in some of the world's most violent countries and claim these migrants deserve asylum.
Meade says that burden of proof is high.
"Asylum is really hard to prove and so even if they're to make an asylum claim, they have to present specific evidence, not just that things are bad in their home countries but that you personally have been targeted and targeted because you're a member of a protected group so no one can tell you right off the cuff that all of these kids or even a significant portion of these families somehow deserve asylum," said Meade.
The border expert also blamed the current crisis at the border to the lack of immigration reform, which Congress has failed to pass.