This is an archived article and the information in the article may be outdated. Please look at the time stamp on the story to see when it was last updated.
SAN DIEGO — It was a happy homecoming Thursday for the service members aboard USS Howard.
"I can't describe it," said David Rodriguez holding his baby girl for the first time at Naval Base San Diego. "I love her."
The guided missile destroyer returned to San Diego after a seven month deployment to the Western Pacific.
"My sailors carry the day every day," said Cmdr. John Fay, Howard's Commanding Officer.  "I couldn't be more proud of them."
The nearly 300 sailors aboard the vessel conducted exercises with the Republic of Korea Navy as well as anti-submarine warfare missions.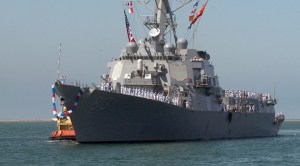 They returned in time to celebrate Independence Day with loved ones.
"(I get to) see the fireworks tomorrow in my homeland with my wife and kids; what else could you ask for?"  Said Oscar Revilla
The ship also operated with the USS George Washington Carrier Strike Group.