This is an archived article and the information in the article may be outdated. Please look at the time stamp on the story to see when it was last updated.
SAN DIEGO — Work crews Thursday began demolishing the old Robinsons- May/Planet Hollywood building at Westfield Horton Plaza in downtown San Diego to make room for a new public park.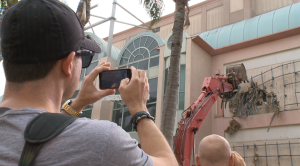 Officials behind the $14 million project hope to create a 37,000-square- foot civic gathering space that will hold more than 200 events per year.
The park will be bordered by Broadway to the north and the shopping center to the south, Broadway Circle to the west and Fourth Avenue to the east.
"This is going to be for our citizens, this is going to be for our tourists, this is going to be for all of us," Mayor-elect Bob Filner told several hundred people on hand for a special event to mark the beginning of demolition.
Gary Smith, an advocate for downtown residents, said the area's population has ballooned from 7,000 a couple of decades ago to around 40,000 now, and they need activities.
According to Westfield, which will manage the park and book the events, potential events include concerts, summer movie series, block parties, cultural festivals and holiday celebrations.
The area had been looked upon as a kind of dead zone in the downtown area, used more by the homeless than shoppers. One downtown resident told the City Council last year that the area was an embarrassment.
"It has been apparent for quite some time that Horton Plaza Park needed a makeover," said Councilman Kevin Faulconer, who represents the area until council districts shift boundaries on Monday.
"The square must be restored to meet the needs of downtown's growing population and reclaim its historic role as a regional destination for San Diegans and future generations," he said.
Outgoing Mayor Jerry Sanders said the park should provide an economic boost for the whole area.
The park, one of the final projects created by the city's now-shuttered Redevelopment Agency, is expected to open in the spring of 2014.