This is an archived article and the information in the article may be outdated. Please look at the time stamp on the story to see when it was last updated.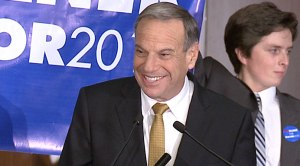 SAN DIEGO — City Councilman Carl DeMaio conceded victory to Rep. Bob Filner Wednesday in the hard-fought battle for mayor of San Diego.
At a news conference in front of the U.S. Grant Hotel, DeMaio told reporters that he had called Filner to congratulate him on his victory.
DeMaio, 38, a conservative Republican, said he remains proud that he was a leader in the movement to reform the financial practices of city government, including curbing "runaway pension costs" and defeating a sales-tax increase.
In unofficial returns, DeMaio trailed Filner, 70, a liberal Democrat, 52% to 48%. DeMaio told supporters that he had called Filner with congratulations. He dodged a question about whether he would ever seek office again.
DeMaio leaves the City Council next month after one term. He said he remains confident that, after a series of fiscal reforms that he helped initiate, the city government would function effectively and become a "great city" through cooperation among various factions.
"There is no Republican or Democrat way to do that, there is no gay or straight way to do that," said DeMaio, who would have been the city's first gay mayor.
Outgoing Mayor Jerry Sanders, who had backed District Attorney Bonnie Dumanis in the primary and endorsed DeMaio in the November election, released a statement congratulating Filner on his victory.
"I want to congratulate Mr. Filner," Sanders wrote. "He's a long-time San Diegan and my hope is that he will continue to move our city forward with the kinds of reforms that have fueled San Diego's turn-around.  I wish him all the best and look forward to working with him to ensure a smooth transition."
DeMaio outspent Filner, but Filner was helped by a large Democratic turnout and the fact that Democrats hold a 40% to 27% registration edge over Republicans, with 27% independents.
DeMaio said he will have to do a "deep dive" into the election figures to determine why he lost. But he said the fact that he is gay "wasn't an issue in this campaign."
He shrugged off suggestions that the campaign was particularly vitriolic. "Politics can be rough," he said.
By Tony Perry, Los Angeles Times