This is an archived article and the information in the article may be outdated. Please look at the time stamp on the story to see when it was last updated.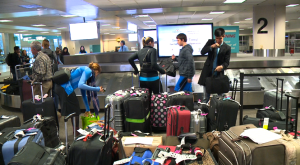 SAN DIEGO – Travel woes continued at Lindbergh Field Friday, as the backlog of delays and cancellations piled up from Winter Storm Hercules.
More than 100 flights were delayed throughout the day and by Friday night at least 10 had been cancelled.
The Warrick family from Pittsburgh was trying to get home, but their connecting flight was cancelled.
"The flights today were delayed, delayed, delayed and then right as we were ready to board the flights were cancelled," said Vickie Warrick, San Diego visitor.
It seemed almost every passenger in the terminal had a similar story. Friday afternoon Mia Bernier finally arrived home to San Diego, but a day later than expected.
"It was first a weather delay and they said they would still put me on the flight and then they delayed it once, and then they delayed it again and it was finally cancelled," said Bernier. "This morning I go and they put me on a new flight and I go to check in and it was cancelled again."
Despite the difficulties many travelers said they're looking on the bright side.
"All we can do is stay here in the sunshine, so that's not all bad," said Warrick.
The backlog of delays and cancellations will likely continue throughout the weekend so airport officials recommend checking with your airline before heading to the airport.