This is an archived article and the information in the article may be outdated. Please look at the time stamp on the story to see when it was last updated.
SAN DIEGO -- The San Diego City Council is scheduled to make another attempt Tuesday to regulate short-term vacation rentals in San Diego, with support coalescing around a proposal supported by representatives of the expanding industry.
The thorny issue has defied several previous attempts at regulation, and an attempt to ban them in residential neighborhoods failed last year.
Many travelers are renting private houses or condominiums for lodging as alternatives to increasingly expensive hotels, via websites like Airbnb and HomeAway. Homeowners view them as a way of making ends meet in a high-cost city. However, neighbors have criticized such properties as attracting late-night noise, trash and over-crowding.
The council was scheduled to take up the issue two months ago, but the hearing was postponed after City Attorney Mara Elliott issued a memorandum expressing legal concerns.
Councilman Scott Sherman, who released a draft ordinance about two weeks ago, said his staff worked with lawyers in Elliott's office and other city departments to resolve the problems in the proposed law. The basic provisions are unchanged.
"I believe this common-sense bipartisan measure is the best path forward for the regulation of short-term vacation rentals," Sherman said.
Sherman and council colleagues David Alvarez, Mark Kersey and Chris Ward announced an outline of their proposal in September. Their plan would require three-night minimum stays, follow a state standard for occupancy, set up a system for permitting and enforcement, and provide renters with a code of conduct that covers issues like noise, trash and parking.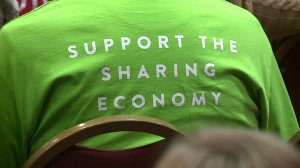 Councilwoman Barbara Bry, whose district includes La Jolla, has issued a separate proposal that would offer tighter restrictions.
Because of the public interest in the issue, Tuesday morning's meeting will be at Golden Hall in the Civic Center complex, instead of the Council Chamber.