This is an archived article and the information in the article may be outdated. Please look at the time stamp on the story to see when it was last updated.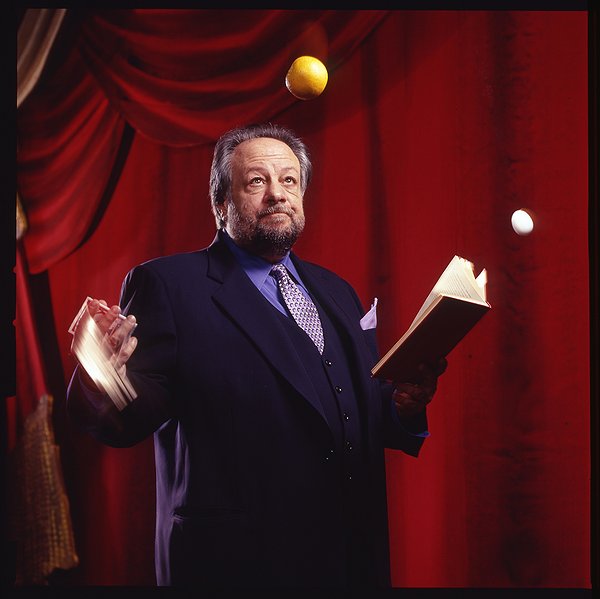 The first time I discovered Ricky Jay was when I was a senior in high school. My late uncle called saying he had just seen the best movie ever. It was a David Mamet film called House of Games. Even in high school I was a film lover, and I rushed out to see it. It was great, and Ricky Jay stole every scene he was in. He was a poker player that cleaned Joe Mantegna out during a high stakes poker game.
It would be years later when I learned Ricky Jay was more than just a character actor.
Local newscaster Jack White had a party at a place he owned on University Avenue. He's an amateur magician, and as I was looking at a few of the movie posters on the wall. I noticed one that said "Ricky Jay and his 52 Assistants." When I asked White about that, his eyes lit up. He talked about seeing that play in New York, and how Jay was the best sleight of hand magician working today.
At the movie screening for Ruby Sparks last year, me and local critic Anders Wright laughed when the fictional character on screen mentions something about "learning magic from Ricky Jay." I asked the writer/star later why she chose to use his name, instead of a more recognizable magician like David Copperfield. She said "My parents had parties and…he was at a few of them. I don't know much about pop culture so…when I wrote this, I thought Ricky Jay was as popular as David Copperfield."
It's a shame he isn't; especially after Anders gave me a piece from the New Yorker about him. Copperfield wanted him to help out on a cheesy magic museum he was putting together in Las Vegas, and it was everything Jay seems to dislike about magic.
But perhaps I should stick to talking about the movie, and not my love and fascination of Ricky Jay.
Just as Jay said nothing made him happier then sitting in a room by himself shuffling cards for 12 hours straight, nothing would make me happier than watching him do just that. Yet, since so little is known about this interesting character actor (his intro to Paul Thomas Anderson's Magnolia was perhaps the most interesting part of it), magician, historian, and book collector…why not tell us about him?
He was born Ricky Jay Potash. His grandfather Max Katz would pick up different hobbies, and became a decent amateur magician. He showed Ricky a thing or two, and this led to him doing his first show at age 7. The clips of that were about what you'd expect from a child that age.
Jay tells us "Magic is my earliest memory, part of my being."
He tells a heartbreaking story (which was in the New Yorker article), about the only nice thing his parents ever did for him – hiring a magician he loved to perform at his Bar Mitzvah.
Grandfather got him meetings with some of the great performers in New York, who decided to take Jay under their wing and give him lessons. These are more interesting with the great historical clips we see to accompany it.
Yet I could never quite shake the feeling that this was one missed opportunity on an amazing documentary about a fascinating person. As Anders Wright would say to me later, "I think he had his hand in this and only showed us what he wanted us to see."
I could sense Wright was a bit disappointed, as was I.
It's fun to see the home movies and TV programs – where you're never quite sure if he rigged a trick with Steve Martin, or implies he had an affair with DinahShore.
It was great seeing playwright/screenwriter David Mamet talk (he's not only used Jay in films, but has directed some of Jay's shows). I would've liked to have seen more contemporary magicians talk about him.
There's some intermittent narration from Dick Cavett, and great shot from Ed Sullivan. Yet the documentary is a bit unfocused, and the quality is often times crap. The sound was uneven. It's as if college film students did this, instead of co-directors Molly Bernstein and Alan Edelstein.
Since the title of this documentary has the word "mentor" we get Jay enthusiastically talking about his favorite performers. They would include Cardini, who he claims is the greatest act he ever saw in his life. There are stories about Slydini, Al Flosso, and Francis Carlyle.
Jay praises Charlie Miller and Dai Vernon, and we learn a lot about how they could be as people. One practiced card tricks in the dark instead of sleeping; another could be difficult at times. It's also fun to hear Jay talk about Max Maldini, who enjoyed impromptu tricks. We get to hear Jay talk about a few of those – when he's out to dinner with his group from a martial arts he practices, and another time for the BBC. This story is fascinating. It's based on Malini doing tricks while out to dinner. One time at a restaurant he spun a coin and put a woman's hat over it. The coin would always land on the side the person said. There would come a point where he'd lift the hat, and the coin was gone. A minute later he'd lift the hat, and there'd be a block of ice. Nobody could figure out how it was done.
But magicians are fascinated by figuring out tricks other magicians do. In that New Yorker article (which the film is based on), Jay talks about being angry at a magician that proudly announced he figured out how to do a trick Jay performed. That wouldn't be so bad, but this guy proudly talks about how it gets big applause in his act. That makes Jay furious, as it's a form of stealing.
The journalist from the BBC talks about him telling this story about Malini, while they're having lunch on a hot day in L.A. He eventually lifts his menu to show a huge block of ice on the table. She started crying. And I did, too. Why? Because there's nothing more enjoyable then to hear a person emotionally overwhelmed by somebody appreciating anothers craft. That could be a painting, a musical performance, or in this case – magic. It's also the fact that Jay became as good as he is because he worked so hard at it. And he probably loved seeing that woman cry in amazement, as much as if he had gotten a standing ovation at a huge hall.
I remember as a teenager hearing basketball Hall of Famer Isiah Thomas get into trouble because he was angry a reporter praised Larry Bird for being so great at basketball. This reporter talked about how Bird stayed after practice for hours shooting to improve his game. Thomas said something along the lines of: Does this reporter think black people are just naturally good at the sport? We practice, too!
And when these magicians handle cards in the dark, shuffle a specific way 12,000 times to get something down – and the joy they derive from a karate teacher trapping you in the shower and handing you a dollar bill so you can perform a trick you did previously in a restaurant (and you still pull it off)…how can you not have tears of joy?
There's another moment where Jay tells a chicken story that's hysterical.
Then a second later you feel sad that these people that amazing tricks often make very little money.
Jay has a shyness and gruffness, and when he says things like "Cards are like living, breathing human beings because they give you real pleasure. You sit in a room with them for 10 hours per day, and they become your friends."
It makes me sad for him, because something about his persona makes me think at his core he's not truly happy.
That's part of the reason it makes me so happy to watch him talk about all these magicians he loves so much, and the joy he gets hanging out with them. Even if that means they're just sitting on a bench analyzing how people put on their jackets.
As he says in the documentary, the magicians he hangs out with are his family. And although I find the sardonic storytelling to be interesting, I don't think this is the type of movie I can recommend to everyone. You have to be a fan of magic. It never really lets you peek behind the curtain. You merely get to see the curtain, and the wonderful magic performed in front of it.
I'm giving this 3 ½ out of 5, since I'm a Ricky Jay fan. If I wasn't, it would get 2 ½  stars.