This is an archived article and the information in the article may be outdated. Please look at the time stamp on the story to see when it was last updated.
SAN DIEGO – In a sport where players and coaches constantly communicate using signs, Andy Villasenor feels right at home playing baseball.
The Madison High School senior lost his hearing as an infant, so he uses sign language to communicate with his Warhawks coaches and teammates.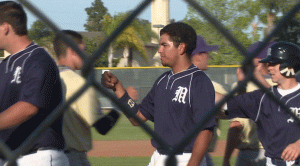 "Some players act, they mime, they'll grab the shirt or the pants and make the basic signs for it, like the blue shirt or the white pants, so we communicate very well," Villasenor signed.
A three-year starter, Villasenor plays left field, so when a ball comes his direction, he and center fielder Ian Clarkin have a system.
"If he calls ball, I don't say anything to him. He doesn't want to hear the distraction or noise. So when he has the ball, I don't say anything, I just run behind him. If I call him off, I make sure I call 'ball, ball, ball' to make sure he hears me," Clarkin said.
Villasenor attends Madison because it's a deaf magnet school. He does have a cochlear implant that helps him hear, but he also has an interpreter provided by the San Diego Unified School District at every game and practice.
"On the field, we understand the game. It's in the locker room when the coach likes to do those idioms, plays on words, sometimes I have to take a back and think, what is he saying. It takes a few minutes," said Amy Saldivar, Villasenor's interpreter.
It did not take Villasenor very long to become one of the key pieces of Madison's team. Coach Robert Lovatos said his varsity batting averages pushes .380, and his impact goes beyond the field.
"He's kind of looked upon as a role model even on campus when he's walking around in front of the deaf students," said Lovato. "They know Andy's good so he's the guy right now. Maybe we should model ourselves after him."
Villasenor takes pride in his role model status and wants others to see his success and realize the only barriers are the ones they put on themselves.
"Some deaf people think they can't do it because they are deaf, but they need to go and try it, try new things and they will find they can do it," Villasenor said through his interpreter.
Villasenor started playing baseball at age five and he plans to attend Southwestern College next year and continue to play baseball.
He would like to cap off his high school career by winning a CIF title, something that has eluded him, and his teammates, each of the past two years when they lost in the championship game.
"We're going to try our best. I want to win so bad. We're going to try our hardest," Villasenor signed.