This is an archived article and the information in the article may be outdated. Please look at the time stamp on the story to see when it was last updated.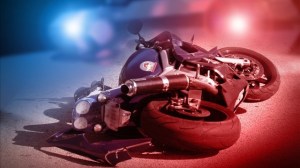 CHULA VISTA, Calif. — A 27-year-old National City man died early Friday on a South Bay freeway after he crashed into the back of a pickup while apparently racing with three other motorcyclists, authorities said.
The fatality on northbound Interstate 805, south of Sweetwater Road, was reported just before 2 a.m., according to the California Highway Patrol.
Just prior to the crash, four motorcycles were traveling on the freeway in excess of 100 miles per hour, CHP Officer Tommy Doerr said in a statement.
As the motorcyclists approached slower traffic, two of the four motorcycles successfully passed but a black 2007 Yamaha operated by the National City man slammed into the back of a Dodge Ram pickup. Doerr said the impact threw the motorcyclist off his bike and he died at the scene.
The fourth motorcyclist in the group swerved to avoid the first crash and lost control of his bike, Doerr said, noting that he also was thrown.
"(He) got into another vehicle and fled the scene," Doerr said, noting he left behind a white 2003 Honda.
Anyone who witnessed the incident was asked to call the CHP at 858-637- 3800.