This is an archived article and the information in the article may be outdated. Please look at the time stamp on the story to see when it was last updated.
Mayor Bob Filner again refusing to answer any questions surrounding allegations of sexual harassment.
After nearly a week of cancelled invitations to appear on FOX5 and dodging the press, Thursday our cameras caught up with the Mayor at an awards ceremony – a huge honor for the city, unfortunately, overshadowed by the mayor's scandal.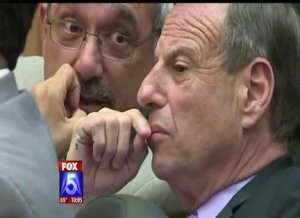 We tried to talk to him as he quickly tried to leave the event:
"Do you plan on stepping down, Mr. Mayor?"
"Can you give us any comment to the people of San Diego who are just waiting to hear your thoughts."
Meantime, as both Republican and Democratic city leaders, continue to ask for the mayors resignation, the San Diego Democratic Party's Central Committee is holding a special meeting Thursday night to gage the parties reaction before publicly taking a position.
"The democratic party is enormously supportively body for women women's rights and women's equality." Said, Democratic Party Chair, Francine Busby, adding, "So it's a very important issue."
In cautiously chosen words, Democratic chairwomen Francine Busby says she expects members to be split, those who want him to step down immediately and those who argue he's entitled to the due process."
"Due process is an important part of our system, this isn't Cairo," she said, adding "we don't have justice by press conference."
Separating the allegations of sexual harassment from Filner's job as mayor was echoed by community activist, Enrique Morones, who organized a 'pro- Filner" rally Thursday at Civic Center Plaza near City Hall.
"He was there on education, race, gays and now when he need us we've gone quiet." Said Morones, adding that he admits he too has heard of allegations in the past, but no charges were ever brought against him in 40 years as a public servant.
"If the allegations are proved to be true," Morones says he should be processed through the highest extent of the law, "just like anybody else, but to have this Kangaroo court and public execution is wrong."