This is an archived article and the information in the article may be outdated. Please look at the time stamp on the story to see when it was last updated.
IMPERIAL BEACH, Calif. – Dozens of daring dogs competed in a surf contest at the Imperial Beach Pier Sunday.
Around 2,000 spectators lined the beach to watch a variety of dogs balance on surfboards while catching waves.
Celebrity judges included professional surfer Taylor Knox, Fox 5's Brad Wills and Dr. Gary Weitzman, president of the San Diego Humane Society.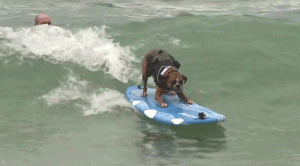 The winners of the Unleashed by Petco Surf Dog Competition were as follows:
Small Dogs: First Place: Ziggy, Second Place: Torry, Third Place: Mr. Tuff
Medium Dogs: First Place: Richocet, Second Place: Abbe Girl, Third Place: Kalani
Large Dogs: First Place: Hanzo, Second Place: Turbo, Third Place: King
Tandem: First Place: Hanzo and Kalani, Second Place: Ricochet and Antonio, Third Place: Konakai and Zack.