This is an archived article and the information in the article may be outdated. Please look at the time stamp on the story to see when it was last updated.
EL CAJON, Calif. - The District Attorney's Office ruled on five officer-involved shootings, including the fatal shooting of Alfred Olango in El Cajon last September.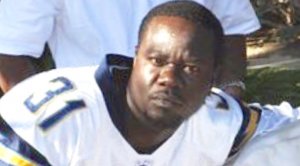 District Attorney Bonnie Dumanis said Tuesday her office will not seek criminal charges against an El Cajon police officer who fatally shot an unarmed Ugandan immigrant during a confrontation near Parkway Plaza mall last fall.
Dumanis said an officer repeatedly told 38-year-old Alfred Olango to remove his hand from his pocket on Sept. 27, 2016, in the parking lot of a fast- food restaurant, but Olango refused to comply.
After a second officer arrived on the scene, Olango suddenly pulled out what the officer believed was a gun, Dumanis said. Olango then assumed a shooting stance and made a motion, prompting the officer to duck then fire four shots, killing Olango.
The device that Olango pulled from his pocket turned out to be an electronic cigarette vaping device, Dumanis said.
"The cop had every right. Shoot or be killed," one witness told investigators, Dumanis told reporters.
Dumanis said the use of deadly force by El Cajon police Officer Richard Gonsalves was "reasonable" under the circumstances.
"Why is it that this man kills a human being and is left at large? Not only that, he's even getting paid for it," said Richard Olango Akuba, father.
Within moments, the District Attorney's declaration sparked outrage with Olango's family.
"My daughter called the police three times," said Olango.
He said his son's fatal shooting was far from justified.  Olango said his daughter, Lucy called police several that times asking for help to take her brother to a mental facility.
"They send 9-11 instead of 5150 that's a red flag to the police department," said Olango.  "Gonsalves was wrong.   I think the DA deserves to be demoted or fired."
Reverend Shane Harris with The National Action Network said his organization is working to take the fight to the Governor's office.  Harris also called on the public to stand with the Olango Family for a community march scheduled on Martin Luther King Day.
"This is going to be a call to action and not just a celebration," said Harris.
"Our fight is for justice, we need justice for Alfred Olango," said Olango.
After the shooting, protesters marched in the streets of El Cajon, demanding the public release of video footage of the shooting. Police eventually did release video of the confrontation.