This is an archived article and the information in the article may be outdated. Please look at the time stamp on the story to see when it was last updated.
SAN DIEGO — A 48-year-old woman angry with a younger woman for having sex with her boyfriend kidnapped the 22-year-old from a home in City Heights, beat and sexually assaulted her with a golf club and threatened her before leaving her naked on the side of a freeway, a prosecutor said Tuesday.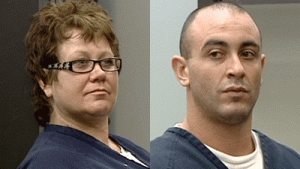 Catherine McCoy is charged with rape by a foreign object, assault with a deadly weapon, kidnapping and making a criminal threat.
Deputy District Attorney George Modlin told jurors in his opening statement that McCoy found out that the alleged victim — identified only as Amber — had slept with her boyfriend and confronted her on Aug. 18, 2011.
"She (McCoy) said, `I'm going to kill you, bitch,"' Modlin told the jury."She (McCoy) said, `Tell me you had sex with him!"'
The defendant beat the victim, and with the help of a friend, Christopher Carrera, forced her into the back seat of a white Ford Excursion, the prosecutor alleged.
The alleged victim testified that she couldn't get out of the car because of child safety locks. She said McCoy got in the back seat and beat her with what she thought was a Maglite flashlight.
After Amber — an admitted drug user — told McCoy she did have sex with the defendant's boyfriend, McCoy wrapped a seat belt around her neck and ordered her to take her clothes off, Modlin told the jury.
McCoy made the younger woman spread her legs and forced a golf club into her vagina several times, the prosecutor alleged.
Amber was let out of the car on southbound state Route 125 near Otay Lakes Road.
"They (the defendants) told her, `You tell anybody, we'll come back and kill you,"' Modlin said.
Defense attorney Charles Adair told the jury the alleged victim was an admitted drug addict who was estranged from her mother at the time and got money for heroin and crystal methamphetamine through prostitution, which Amber denied.
The attorney said Amber was indeed beaten, but the sexual assault with the golf club never happened, saying there was no physical evidence to support that claim.
Amber testified that she had sex with McCoy's boyfriend a few times, but he only paid her once.
When confronted by McCoy the day of the beating, Amber said McCoy ordered her to come over to her, but she refused because she thought the defendant would hurt her and was punched.
"She said, `I'm going to do more than hurt you, I'm going to kill you,"' Amber testified. "She said, `I know you (expletive) him. You ruined my whole life."'
During the ride in the car, Amber said she believed McCoy had a gun, although she never saw one. She said the defendants told her they were going to take her to the desert and dump her body.
McCoy faces 25 years to life in prison if convicted.
Carrera pleaded guilty and was sentenced to nearly 17 years behind bars.